If you've ever set up an email account before, you've probably been asked which email protocol you would like to use: POP or IMAP. This choice will have a major impact on your experience of sending, receiving and otherwise using email.
While POP, or Post Office Protocol, used to be the most popular type of email protocol, IMAP – or Internet Message Access Protocol – is the go-to choice of most people these days.
As its name implies, IMAP allows you to access your email messages wherever you are, on any device as long as  you have an internet connection. Simply stated, when you use IMAP your email messages are stored on your mail server. Whenever you check your inbox, your email client contacts the server to connect you with your messages. When you read an email message using IMAP, you aren't actually downloading or storing it on your computer; instead, you are reading it off of the server. As a result, it's possible to check your email from several different devices without missing a thing.
When someone sends  you an email – that message is stored on your mail server. You can use an email client, (Outlook, Thunderbird, MacMail), a mobile phone, a tablet or a webmail using a web browser. When you sign into an email client it contacts the email server using IMAP. The headers of all of your email messages are then displayed. If you choose to read a message, it is quickly downloaded so that you can see it – emails are not downloaded unless you need to open them
There are several advantages to using IMAP.
It allows you to access your email messages from anywhere, via as many different devices as you want.
It only downloads a message when you click on it. As a result, you do not have to wait for all of your new messages to download from the server before you can read them.
Attachments are not automatically downloaded with IMAP. As a result, you're able to check your messages more quickly, have greater control over which attachments are opened and use less mobile data.
IMAP can also be used offline.
One consideration is how much space you have for each mailbox. Since you don't automatically download your email – you will need to keep an eye on how much space you are using.
Premium Email has 25GB mailboxes at a rate of $3/month a perfect solution for any serious email user.
As we become more mobile, checking email on our phones and watches, IMAP will become more and more useful. We all use smartphones, laptops, tablets and other devices making the demand for IMAP stronger than ever. While POP will continue to be used by people who only access their email via one or two devices – and slow connections to the Internet. The bottom line is that IMAP will continue to be the protocol of choice for people who wish to stay connected with their email.
Business class email with robust Webmail, Spam & Virus filtering that you control, works on any device, 25 GB of space…only $3/month!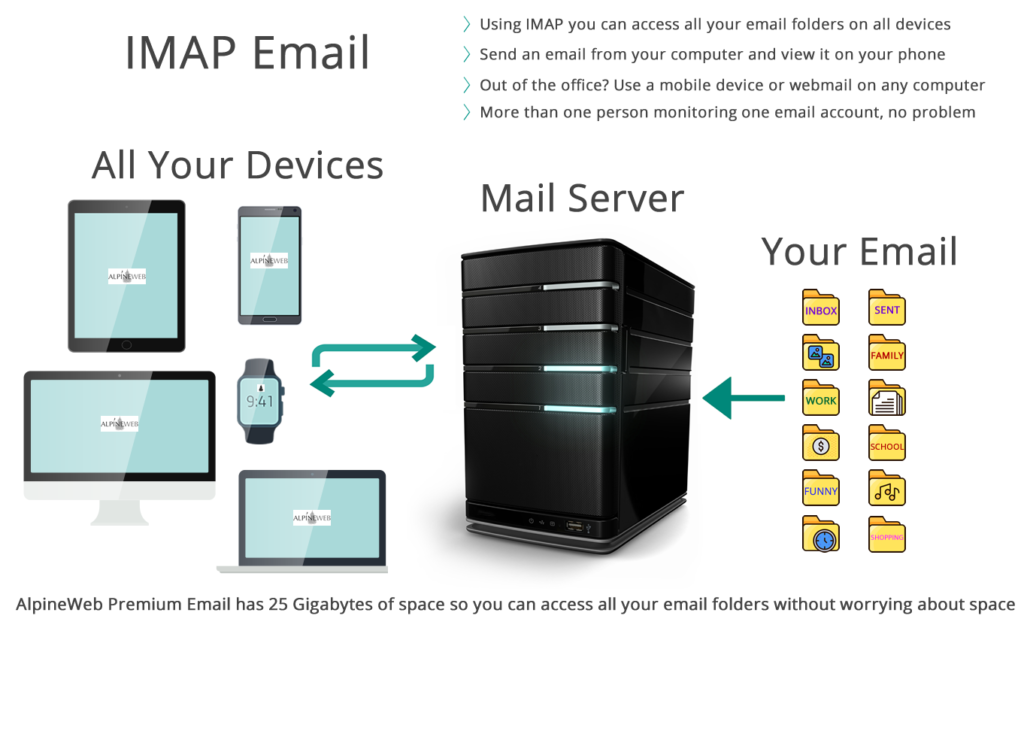 https://www.alpineweb.com/wp-content/uploads/2019/06/IMAP.fw_-1.png
1000
1370
CJ
https://www.alpineweb.com/wp-content/uploads/2018/02/alpineweblogo-new.gif
CJ
2019-06-25 21:22:57
2019-06-26 14:04:26
Using IMAP for Email